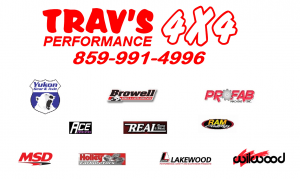 Here at Trav's 4X4 Performance LLC.
We specialize in a wide variety of parts and custom built items to fit all your needs.
From pulling to racing and many other applications.
Some of the companies above is only a few of our many vendors.
We provide some of the following.
Full line of clutches and clutch products
Complete Chassis Setups and Builds
No Job to Big or Small
Make sure to check us out & Like us on Facebook!